By Collin Hochstedler
Intro by Nicole George
Next week, I intend to share the three character traits that make a great team member. Collectively, the managers at my job read The Ideal Team Player and then my supervisor asked me to read it. It was awesome. But this week, I'm going to let a throwback post introduce you to one of the characteristics--being "smart" as in people smart. It's learning how to encounter others socially. Collin shows a little bit of some the other traits, even in this post, so I can't wait to share more with you next week! For now, enjoy his compelling post on being an example for Christ.
Focus on Your Nonverbal Signals
Originally Published August 27, 2009
One of the key reasons I wanted to be involved in business was to be a redeeming influence in the marketplace. After several years of experience in professional settings I'm more aware than ever of just how much that influence is needed and why I'm so excited about and have become involved in the WAM House program. We have a great opportunity to make a significant impact in our workplaces and the thought of participants having such a great setting in which to study, be mentored and enter the marketplace prepared in so many ways that I was not is truly exciting.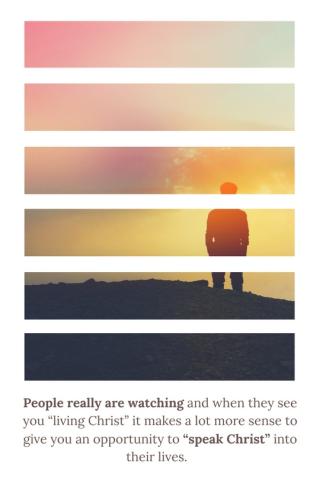 As a Christian, I would say there are two main goals that I have as I conduct my professional life. One, that my actions, goals, speech and responses reflect an ethical and moral obligation that comes from God; my integrity has a foundation outside of myself and is not subject to my own ambitions. Two, that my friends and coworkers would be influenced by the results of this attitude to the point that it begins to change their actions and eventually leads them to the point of recognizing their need for Jesus Christ in their lives.
This can be a daunting task in the current business environment which is regarded as increasingly secular and unethical. For me dealing with people who lacked a similar ethical compass was not the unexpected part. After all I can remember sitting in a class at OSU and listening to the professor talk about how important ethics were and that everyone should have them but that we don't really know where ethics come from, we should not judge other people's ethics, and it's quite likely that everyone will have different ethics. What sort of foundation is that meant to create? The surprising and often discouraging discovery for me was when people that I had known for three or four months or more and whose behavior and stories aligned indistinguishably with those of secular coworkers mentioned that, oh yeah, they were "Christians" too. I began to realize that the mere presence of a "Christian" was not going to suddenly save the day or change the behavior of those around me when they were already "innoculated" to that presence.
Over time, however, I've made a much more exciting and encouraging discovery. I've realized that communication is rarely as clear as it should be in business. As a result most people who survive and thrive in the business world become very adept at recognizing the nonverbal signals they receive. They truly do pay just as much attention to your actions as your words, even more so when the two agree. People really are watching and when they see you "living Christ" it makes a lot more sense to give you an opportunity to "speak Christ" into their lives. I've been invited to pray for sick friends of coworkers and asked to explain why my parents left a farming life in Iowa to be missionaries in the bush of northwestern Ontario. Sometimes the questions are more difficult to answer, like what am I doing worrying about SEC filings when my brother is working with abandoned street kids in Sao Paulo, Brazil. I hope questions such as these are the Holy Spirit awakening a sense of need in their own lives. SEC filings and accounting may be what I'm good at, but they're secondary reasons to why I find myself in this line of work.
To conclude, my key point is this, pay attention to what your actions are saying and consider establishing a consistent habit, visible to your coworkers, which points to the difference Christ makes in your life. They'll notice!!
About Collin Hochstedler:
Hi, my name is Collin Hochstedler.  I grew up in a small town in the bush of northwestern Ontario.  After finishing high school I attended Rosedale Bible College near Columbus, Ohio and graduated with an Associates degree in General Studies.  I then did a one year stint at Trinity Western University near Vancouver, B.C. before transferring back to The Ohio State University to finish my Bachelors degree in Accounting.  After graduating I worked for Ernst & Young and after a couple of years there I moved to Nationwide Financial Services where I obtained my CPA license and am currently a Senior Accountant in the GAAP & SEC Reporting Group.  After living in one place for the first eighteen years of my life, I've since lived in Pennsylvania, Alaska, Montana, British Columbia, and of course Ohio. I enjoy hunting, fishing, camping, wakeboarding and home remodeling.