By Nicole George
As a new round of leaders gets ready to find jobs once they graduate in about 5 months, I can recall how I felt this time last year. I began freaking out because no job opportunities had popped up in my realm yet and I had two housemates who already had good job prospects. In came the panic.
Because of the impending job hunt and because of friends who graduated mid-year a couple weeks ago, I've been reflecting on the opportunity to blossom in the new year. Many of my peers are making leaps into new situations and I truly desire for these transitions to be positive.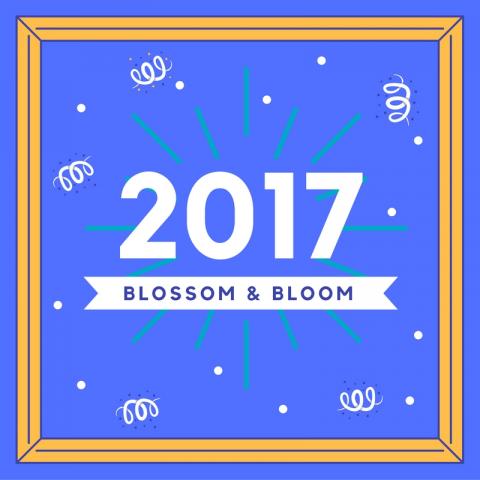 My Own Transition
I often experience out-of-mind moments where I sit and wonder and how I've gotten somewhere. A couple days ago, I had one of those moments where I couldn't believe that somehow, post-graduation, I ended up in Tennessee. I didn't know anyone here and somehow, it has become my normal. I've become really comfortable in my new job and in Tennessee. This doesn't happen easily for most people, though.
So how does anyone make the transition to a new place and a new job their normal? How do we blossom in a new place if we don't know anyone or if we're pushed outside of our comfort zone?
1. Have a Rooted Mindset
Jon Shah, a college pastor in Columbus, Ohio, encourages young adults making new transitions to have an attitude that is ready to serve. Don't think your first job has no meaning and don't think this period is "only temporary." Shah encourages young adults to think, "I'm not here to survive. I'm here to thrive." 
You really don't know how long you'll be somewhere. My direct supervisor has tried to leave our company before, but new opportunities arose and she's stayed. Other people expect stability and suddenly, an opportunity arises somewhere else. You really can't know how long you'll be anywhere, so make the most of exactly where you are and offer yourself to the people around you. (Remember, they're paying you to work because they want you there and value you.) I see the first opportunity we get post-education as a place to apply everything we've learned the last 12-16 years of life and to continue learning about yourself and how to do an excellent job in the marketplace! 
2. Remember Your Identity
I find 2 Corinthians 5:17-20 so comforting because it reminds me of who I really am. No matter what job or what situation is put before me, I am reconciled to God (I get to approach him and know him because of Jesus) and I am an ambassador of Christ. This status means you no longer live for yourself. It gives you the freedom to serve and walk out your faith because you have been entrusted with the ministry of reconciliation (v.19)!
Keeping this in perspective checks our hearts and reminds us that in each job, there are people around us who don't know Christ. Does your job matter? Absolutely. But our world isn't really about work. We work to glorify God and part of the way we glorify God is investing in the people at our job and being there to share the great news of God reconciling man to him! Shah encourages young adults to look for the mission right around you in your job and neighborhood. Seek out your purpose for being sent as an ambassador of Christ to the people right around you!
3. Take the Relationship Risk
Nick Nye, another pastor in Columbus, Ohio, encourages young adults to invest in relationships right where you are. Whether you pick up a job that feels temporary, live at home until you can find a job, or pick up a job where you feel like you'll stay for a long time, investing in people is a risk worth taking. Relationships are not easy and they're messy and they take time. But when you take the risk to get to know people, suddenly a new place begins to feel like home.
As I recently told a friend, sometimes this means sacrificing your own emotional desires to go ask someone about their day and give them your time without immediately getting the same investment back from them. Sometimes it means making some friends who turn out to be duds and trying again with someone. Sometimes it means fighting discomfort at church until you finally start to get to know people.
4. Lay the Gospel Before You
For each of the above steps to flourishing in 2017, remember how the Gospel flows into them!
Jesus already has the victory and you can live with confidence in his final reign. No matter how long you are somewhere, you are his and he has paid for your sin. He does not judge you by what you do or don't do in any situation, but by what he did on the cross. This means he values you for who you are, not what you can do, so be yourself in your new place and believe in what he has made you to offer. What you offer people around you is not anything you can do, but yourself, who Jesus died for because he loves you and wanted to redeem you. It's worth embracing your present situation because you offer yourself and the redemptive work of Christ to people around you!
The joy of your salvation is so beautiful! Consider all the people in the world that don't even know what Christ has done to bring creation back to its creator! No matter where you are, you have the gift of being an ambassador for God, when you really don't deserve it at all. This is the God who made all things and STILL came to earth as a tiny baby to save his creation.
Relationships are not all on you. They get hard and all humans are sinful. Look at Jesus's disciples! They were horrible friends to him. But he extended grace to them perfectly and called them his friends. You will not and cannot extend grace to others perfectly. They also will not do the same for you. The Gospel means that Jesus does that for us and his perfect grace given to us means that you can take strength and joy in his love for those people. His love allows us to love others and to take the risk of entering their messy lives. It allows other Christians to enter your sin and reminds both of you that neither of you is perfect and still, Jesus calls you his own.