One of the most wonderful things that has happened to me this year is the Perspectives on the World Christian Movement. This class is incredible at educating Christians on why God is a God on mission. It equips you with cross-cultural communication skills. It transforms how you see the need for missions and best of all, it opens your eyes to the big picture of what God is doing in the world around us.
To me, the most incredible thing is what God has been doing in the last 200 years. Missionaries like William Carey, Hudson Taylor and William Townsend made leaps and bounds in reaching the world with the good news of the Gospel!
It's been so interesting to learn about how the Western world sent Christian after Christian into India, China and many other places of the world. At one point, missionaries were going to other parts of the world with their belongings sent in coffins because they were going with the expectation of not living more than two years. And still, they kept going, fully aware of what was going to happen.
The State of Missions Today
There are still over 6,500 unreached people groups today.
What is a people group? According to the Joshua Project, "For evangelization purposes, a people group is the largest group within which the Gospel can spread as a church planting movement without encountering barriers of understanding or acceptance."
So that means over 6,500 groups of culturally, ethno-linguistically similar people have never been reached with the Gospel and have a minimal amount of professing Christians. What's wild to me is that there are still many people groups that may have professing Christians, but these people groups have a minimal amount of evangelical Christians, Christians actively sharing the Gospel and evangelizing, so these people are "minimally reached" or "superficially reached" people groups. And that's a significant number too!
Reality of Why We Go
Loving God means obedience and one of the commands we're given is the Great Commission. I don't mean to beat this over anyone's head, but missions is pertinent because Jesus says so. Before he left, he told the disciples "Therefore go and make disciples of all nations, baptizing them in the name of the Father and of the Son and of the Holy Spirit, and teaching them to obey everything that I have commanded you. And surely I am with you always, to the very end of the age" (Matthew 28: 19-20, NIV).
Why? Well, we follow the commandment to go make disciples because that's God's command, but even more important, because we love him.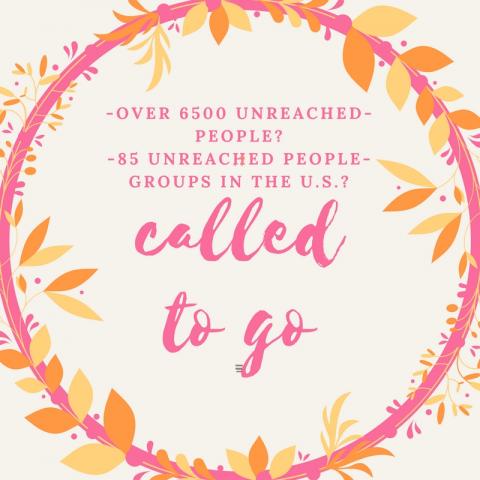 This mission cannot become humanistic in the sense that we should go because people need to hear. They do need to hear, but it's not really about the people. This mission is not so that we can fix their world or fix their problems. Christians can go and offer wonderful resources and bring about good in the world to display the power of God's Kingdom. However, that's not the point of going.
We also cannot go make disciples out of obligation to the command. While we should obey God's commands, it's because they're good commands that we can trust, not because we fear punishment or expect reward for obeying the commands.
We must go because we love the Lord. We love his name and want to see him known by all people because of who he is.
Guys, the God I'm talking about is a God who deserves to be totally glorified and praised and dwell in a stunning, jaw-dropping tabernacle where he should be praised! (You can read about his design for a gorgeous dwelling place in Exodus 36-39.) Instead, he came as a human (we're pretty gross if you haven't noticed) in a dirty animal stall among the Jews at a time without iPhones, Internet and airplanes.
Better yet, this God deserving of all glory and praise died for the disgusting sinful humans that reject him time after time. He is absolutely deserving to be known by the entire world.
So What's Your Role if You're Working Full Time?
This call to reach the ENTIRE world is not just for missionaries. It's for anyone who calls himself a disciple of Christ. That means that even in the workplace, you are called to mobilize and send people who are willing to go. And, you may even be called to go, whether it's in the U.S. or another country!
Look at this map of people groups in the U.S. who are varying levels of "reached":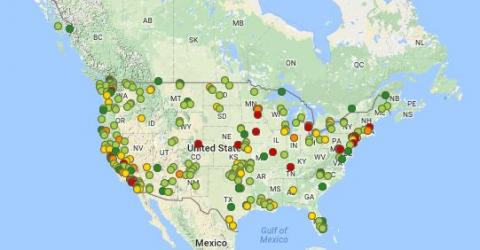 There are unreached people groups even in the U.S.! The total number of people groups in the U.S. is 488 according to the Joshua Project, and they are varying levels of "reached." Out of the 488, 85 of them are "unreached," and those are indicated by red dots.
So, even if you don't go to another country, you can make the effort to go to an unreached people group right here in the U.S. where you'll still get to work, live in American culture and have easier access to your family. It's a valid sacrifice that is totally worth it!
You can also seek out international students or workers that come to the U.S. And the amount of people who come to the U.S. to work or study is staggering. It's estimated that around 75% of international students never enter an American home while they're in the U.S.
First of all, for diplomacy reasons, how does that look to other countries? That's ridiculous. Second of all, what an opportunity for evangelism and sharing God's love with others! These students are so open to talking about American culture and faith, often more so than American students.
Basically, as a Christian in the marketplace, I hope you're making efforts to share the Gospel with coworkers and be an influential leader to the Americans around you. You're mission cannot stop there though.
You are called to send missionaries with your prayer and finances.
You are called to equip them with evangelical training.
You are also called to reach unreached peoples right around you. That's the reality, and if that doesn't ring a bell in your heart, go talk to the Lord about it.
Those who love the Lord walk in the light and proclaim the Gospel to others that they may also have fellowship with Christians who have fellowship with the Father and with the Son, Jesus (1 John). It's for the glory of the God who gave us everything that we share with others so that his glory may be made known to them too. Are you walking in the light?