By Nicole George
The reality is that we live in an age where "anything goes." You may not see that directly around you, or maybe you do, but violence, racism, drug addictions and other culture damaging behavior runs rampant while some of the most privileged people turn a blind eye to it. Many of the people living in the midst of crazy don't know it or don't do anything about it.
At one time, America feared that communism threatened "the greatest of American virtues, freedom," and that George Orwell's nightmare of a society from Nineteen Eighty-Four, a society that censored all information and restricted individuality, would come to pass.
His former teacher, Aldous Huxley, wrote Brave New World where society was sedated by being steeped in sensation gluttony, technology and instant gratification.
Which one sounds more like the present? I'd like to say it was the one we didn't see coming, the one deceived and sedated by an overload of sensation.
Neil Postman's son Andrew Postman, wrote an excellent article digesting his father's prediction of the current state of affairs. Looking at the evolution of American culture, we have increasingly received our information from TV and from polished communicators. We love instant media and pictures. We began to crave entertainment and developed a lack of will to verify the "truths" we heard on TV. Sounds like an obsession with instant gratification and entertainment to me.
Neil Postman wrote "Orwell feared we would become a captive culture. Huxley feared we would become a trivial culture."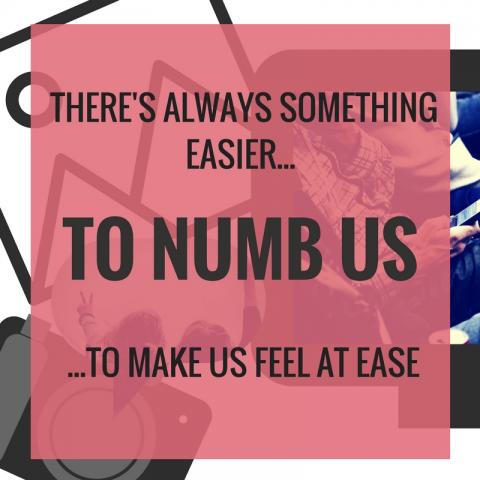 Our public discourse, as Andrew Postman puts it, is no longer based on experience, thoughtfulness or diplomacy, but our ability to entertain others. So if it's all for show, where do we ever find truth?
I believe that herein lies a huge, but not sole, reason for the lameness of the spread of the Gospel in the United States. In a world that resembles an Orwellian society, there is still a desire to seek out information and to find knowledge. Someone limits it, sure, but availability cannot halt hunger when it is there. In a world that resembles a Huxley society, people are lulled to comfort by the availability of information.
There's a false sense of "Well, when I want to find out that thing, I can." The ability to spend time elsewhere and to gorge on easy-to-digest entertainment invites us to passivity. There's always something easier, like Netflix or a movie, to numb us and make us feel at ease instead of dealing with harder to digest thoughts, difficult relationships and the reality of our world.
"Huxley feared the truth would be drowned in a sea of irrelevance," and although I know God's truth never disappears, the truth of the Bible becomes increasingly irrelevant to Americans.
Christianity in Other Places
1 Peter references suffering for Christ multiple times talking about the glory of experiencing suffering for Christ.
"Now who is there to harm you if you are zealous for what is good? But even if you should suffer for righteousness' sake, you will be blessed. Have no fear of them, nor be troubled, but in your hearts honor Christ the Lord as holy, always being prepared to make a defense to anyone who asks you for a reason for the hope that is in you; yet do it with gentleness and respect, having a good conscience, so that, when you are slandered, those who revile your good behavior in Christ may be put to shame." 1 Peter 3:13-16, ESV
Even here, Peter urges Christians to be respectful and to discuss Christ, not to entertain, but to bring truth to light and to honor the Lord. And notice in verse 13, there's a zealousness for good, not a passivity! Someone who is not passionate for Christ will not likely suffer for their belief. Satan doesn't have a reason to prowl and attack you if you're not living out and sharing the Gospel. He is not threatened and can easily do his job of drawing you away from Christ by convincing you to choose idols of comfort, gluttony, entertainment, etc.
Sounds a bit like Huxley's society, no? I received a prayer letter this morning from missionaries in India and was moved by a line that said "On the second day there was opposition from some Hindu fundamental elements, they threatened some of us abusing and asking us to leave the place or be beaten up, this was something new for our students, they were initially shaken but were later strengthened in their faith, counting it a privilege."
India's world looks a bit more like Orwell's where there is a clear agenda against all things not Hindu. And India is becoming increasingly restricted and censored. In the U.S. presently, you can find a clear agenda against Christianity, but I think in more places, you'll find a passivity because "all ideas are good." There's a sensory overload and the result of hearing all these conflicting ideas is not a search for truth, but a resolution that it all must be okay.
It is a lull into apathy about truth. The apathy results from a general society of people who care more for comfort and entertainment than to seek out truth. (I know all of you see living exceptions to this, but collectively as a society, we settle for twisted half-truths and lies.) This leads to ridiculous ideas as outlined in "Gender and Gravity are Social Constructs" because anything can be right for anyone and people stop caring as long as you don't directly oppose what they do think is right.
With gluttonous people who are drowned by easy access to mental and emotional sedatives of all kinds, Christianity and a desire for truth begins drowning in a sea of irrelevance.
What do We Do About it?
To be honest, I think Galatians 5 and an article asking "How will Christians demonstrate God's love in 2017?" have a clear answer: STAND FIRM.
Even as I write this blog, I have a hard time standing firm. My instinct is to run away. I run to food, Netflix, music and anything but God when I feel uncomfortable. We all make lots of little idols and one of mine is comfort.
But we face a real battle against the spread of God's glory in the world. And as Christians, we have something that Satan has: Freedom from sin and death.
"For freedom Christ has set us free; stand firm therefore, and do not submit again to a yoke of slavery." Galatians 5:1, ESV
The sin that separates us from Christ was declared put away (Hebrews 9:26). Don't keep running to it when it died on the cross with Jesus when you became a Christian. Don't run to the old man who didn't have the Holy Spirit and didn't have communion with his Creator. Don't embrace the reign of the Prince of Darkness in this world. Choose to fight for freedom in your own life and choose to turn away from apathy.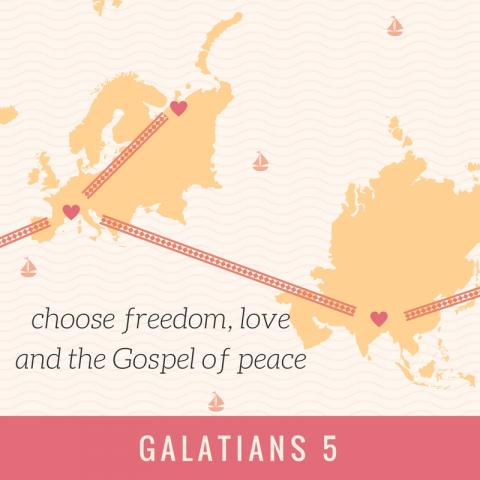 Last night, that looked like me stopping in the middle of a comfort eating scenario and deciding, I can't do this again. I don't want to start this again. I want to work instead of being lazy and fearful and avoiding what I should be doing. I want to give what God gifted me, an ability to write, to him and his glory. I will choose to fight and engage in battle with my God.
So, fellow Christian, why can we hope and fight? Because we want to see God's name and the story of what he has done to reconcile people to himself through the justifying substitution of Jesus's death and resurrection be made known throughout the entire world.
He is worth everything not just because of what he has done, but because it shows us who he is: Perfect and worthy.
So stand firm in anticipation of Jesus returning to make all things right again and bring his bride to himself. Do not be apathetic. Choose to love the people around you and build bridges with people who are hard to understand. Do not accept a sensory overload of culture and ideas that don't come from the Bible. You have the truth of God's love for his own name and his people in a beautiful book in front of you, straight from the mouth of God. Eat it, love it, live it, share it and fight for it.